---
Emily's Gallery & Studio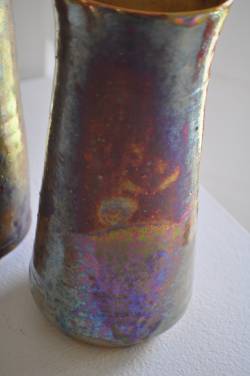 For the past ten years or so I have been investigating, experimenting and generally losing myself in the elusive art of reduced Arabic Lustre. Using such esoteric items as Burnt Umber, Bismuth Nitrate, Silver Nitrate and Copper and lots and lots of firings and tests, I am starting to get work that makes me happy. I have had exhibitions recently at Cudgegong gallery, Inner City Clayworkers in Glebe and Watsons in Canberra with this work.
I also create the blue and white and coloured domestic ware which has been the backbone of my practice for thirty years. Despite the length of time I have done this, it is always fresh and new designs constantly evolve.
My studio and gallery are on our property at Verona, which is near Cobargo and Bermagui on the lovely far south coast of NSW.
My sun filled studio is a lovely place to be looking out over our property with its hills,creek and companionable and rather eccentric animals.
I have a big workspace with a gallery and a separate kiln room with 2 large kilns.
I look at the ancient sacred site of Mumbulla Mountain as I sit at the wheel and our lovely farm can be seen through the other windows.